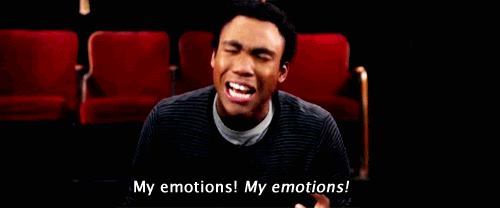 Like most of my posts lately, this one will be full of mom feels and probably way more information than you ever wanted about my personal bits. It's a blog, so, you know. This is what they're for.
It wasn't until about 6 weeks after having my daughter that I realized that I'd had pretty severe pregnancy depression. It's not that uncommon and it makes a lot of sense when you think about the crazy hormone cocktail going on in your system as you gestate a new human being. Not to mention the nutrient drain and physical effects. And there's the fact that pregnancy is kind of terrifying and emotionally difficult (or at least it was for me) due to body changes and the fact that your life will never, ever, be the same.
It reminded me of what I felt like, in some ways, when I was a teenager and had depression that was most severe around my period. In retrospect I may have had PMDD, but it was the 90's and I don't know that that was even a diagnosable thing yet. I don't generally self-diagnose, but from what I can remember, it was bad. Not quite suicidal bad, but that sort of depends on your definition. I certainly fantasized about being dead a lot. And since I also developed a restrictive eating disorder around age 16 or 17, you could argue that I was...just by slow degrees. Because what you're doing when you restrict your food is denying yourself what you need to live and it can be a slow (or fast) slide into starvation. In any case, it's certainly self-destructive behavior.
It wasn't until I was 30 that I was officially diagnosed with depression and anxiety, both mild to moderate, and treated. When I got pregnant my German doctor refused to let me come off my medication gradually even though it was safe to do so and instead I had to go cold turkey. It wasn't pleasant but I got through it. And all the old familiar symptoms came back with it. Obsessive thinking, constant negative thoughts, massive body dysmorphia which was not helped by being pregnant and actually becoming physically distorted, etc.
I worried a lot while I was pregnant that I would fall back into ED habits, but I didn't. I ate when I was hungry, I ate mostly healthily (I'm not sure but I think I may have eaten all the cantaloupe ever grown in NY), and I actually gained a totally reasonable amount of weight although I wasn't thin to begin with. My pregnancy was extremely healthy but I felt like utter shit the entire time. I had all day sickness the first trimester and I never got the 2nd trimester "boost" of energy or hormonal "bliss" other women got. I just felt tired and achey and frankly, pretty miserable. The last trimester, however, was the worst.
I tried to talk to my various doctors about this but even the good ones sort of just nodded and said that's how it is, even with my history of depression. In retrospect I should have been more assertive that this was NOT okay and that I was really struggling. Should maybe have gone back into therapy. Because in the last trimester my hormones made me mentally foggy, extremely tired, and at a certain point pretty much unable to think clearly or coherently. My emotions were a complete mess, I felt weirdly numb one minute, sad and angry the next.
After I gave birth it was like a switch had been flipped. My brain no longer felt like something heavy and fuzzy was sitting on it. I was tired, but not exhausted in the same way, like I'd been drugged. I had the terror of a new baby to deal with and my body was a sore wreck for over a month, but mentally I felt like a different person.
Right up until the post partum hit like a vomitous club of hot mental garbage.
I wrote up a thing about the specifcs of my PPD that I still can't look at. It's too ugly and raw and awful. I know a lot of other mom's who have had a similar experience. I had been waiting for it to happen because of my history so I thought I'd be "prepared". Which is laughable now. Like pretty much everything involved in pregnancy and parenthood there is no way to be "prepared" for some things. You just have to experience them to understand.
For me, post partum was like taking my obsessive, negative thinking and ratcheting it up into some kind of new and horrible stratosphere. I had a lot of "What if I...?" thoughts that terrified me so much I didn't leave the apartment or even open a window. I had to ask my husband to come home early from work one day, I couldn't stop crying, and it was upsetting the baby. I kept looking at her and these awful thoughts would just ooze up, things I would never do, but that my brain had even come up with them was too much for me. I love her so much, those kinds of thoughts were like being stabbed and then having it twisted again and again.
I didn't let this go on for long, I called the doc within two weeks and got on medication. Which made me feel like I was at least doing something even though it takes about a month for meds to fully kick in. It gave me a bit of a placebo effect, where I thought I was doing better than I was. It also allowed me to regain a sense of control over my emotions and at least start using the techniques I'd learned years ago again to break the cyclical thinking problems more consistently.
Like the pregnancy depression, I look back on the post partum now and it feels like I'm looking at a different person. The things I thought are not the "me" that I know.
In the middle of that I got my first real period since giving birth. So I ended up with PPD and PMS at the same time! What fun! Not since my teen years have I felt so emotionally weird. And I didn't realize what was happening until I actually got my period and suddenly didn't feel quite so intensely about a lot of things that had previously seemed Very Fucking Important. That whole switch being flipped thing again.
These days I feel better but I'm still wary. Post partum can last more than a few months and I'll be honest, I'm not sure how long it will take me to get over a bunch of the things that happened during it. Especially the kinds of thoughts I had. I feel very betrayed by own brain.
A lot of people will tell to look on the bright side of things and I get that, I really do. And it's sort like, yes, being stabbed in the eye IS worse than being punched in the eye. But a punch in the eye still leaves a bruise that lasts awhile. That's a bit like how this feels.